Middle River Tow Truck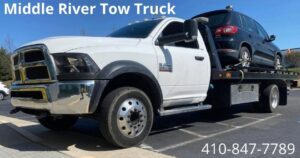 When we first opened our doors in Middle River, we were not entirely sure what we were getting into. Yes, we were towing experts, but it was a bit of a risk. For years, our founders had wanted to take the jump and start their service, but could Middle River support a full time towing company, we had no clue. Our founders were correct in their assumptions, and today we are proud to be one of the largest locally owned towing companies servicing the great community of Middle River, MD.
Before our founders started Middle River Tow Truck, they worked with one of the larger towing companies. In theory, these companies are great as they cover such a large area, but communities like Middle River would be left with long waits and cancellations. For so many calls, people in Middle River would be waiting for hours, and that is not the type of service standard you would expect for a community like Middle River. Our founders were from Middle River and found it frustrating. The city of Middle River deserved so much more, so they started Middle River Tow Truck.
Our towing services were designed to be different from your standard towing company. We took the time to find drivers with a customer-first approach and would emphasize providing a quality towing service. Yes, we need to make money on our services, but that does not mean we need to be rude or short with our clients. It took a while to find those drivers, but as we slowly expanded, our roster of drivers continued to grow with true professionals who knew this space. Whether they are driving our big rigs or our light duty tow trucks, the drivers at Middle River Tow Truck are some of the best people on the road, and we are not just saying that!
In addition, we knew that we needed to invest in our team of amazing dispatchers. Dispatchers make a difference at the end of the day and have compassionate yet efficient dispatchers. Our dispatchers are some of the best in the state, and whether they are dispatching a truck for a tow or roadside assistance, they approach it the same way. They provide a compassionate ear and all the information you need, including an accurate estimated arrival time.
So, if you are looking to work with a towing service that is a little different and will not be like the previous towing experiences you have had, then it is about time that you called Middle River Tow Truck. We are not like your normal big city towing company and will ensure that you and your vehicle experience a real difference in towing service. Call us today, and see why so many in and around Middle River, MD, have trusted our fleet of tow trucks to provide towing and roadside assistance services! Stop settling for mediocre towing experience, and embrace the top towing company in Middle River at Middle River Tow Truck.
Middle River Tow Truck
Middle River, MD